Goodness, not having a 15 mile round trip bike commute a couple times a week definitely hampers getting my mileage in. I'll need to take more lakeside walks with the dog! Virtually we are now in the Yorkshire Dales and this is where I can actually start writing and posting pictures from my real life trip to this area in May 2019!
But first my virtual postcards.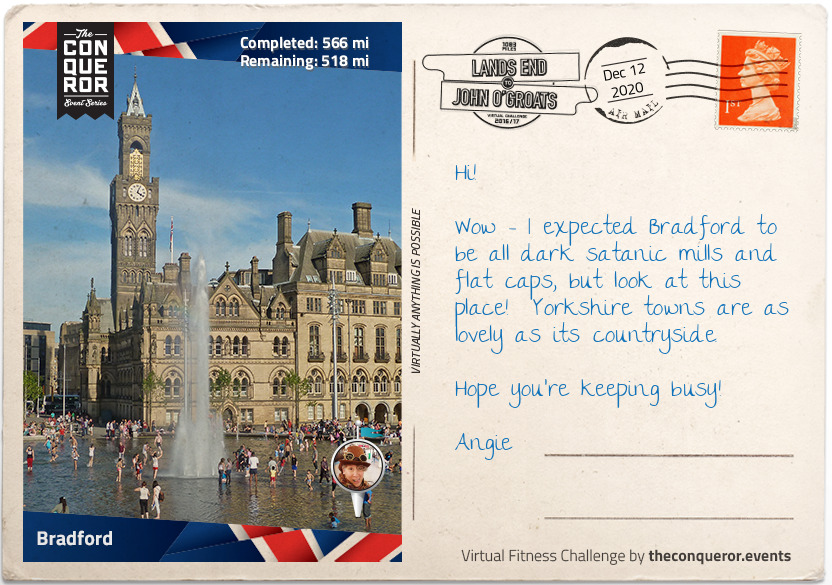 Dark satanic mills? As for flat caps, I'm picturing Dick Van Dyke from Mary Poppins. Honestly, I don't think that's what I would have expected. Who is writing these things?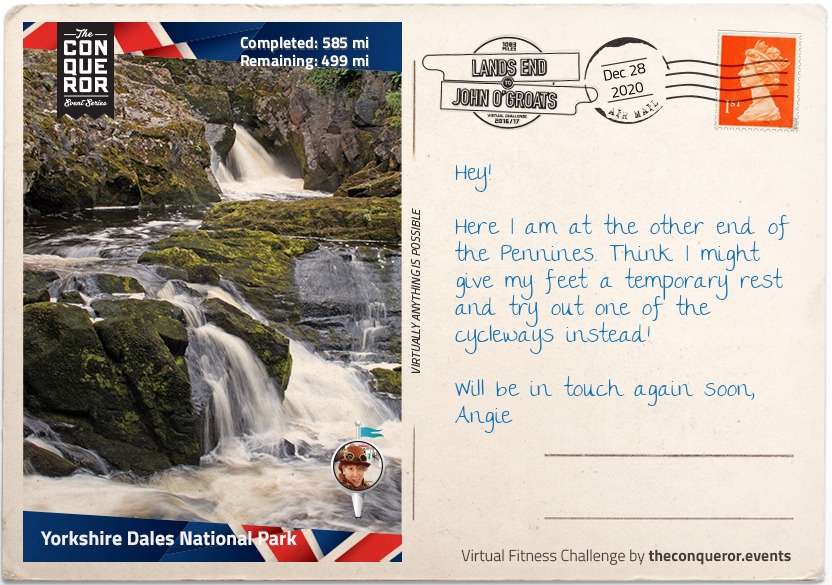 My virtual route takes me north via Skipton, a market town just outside the National Park. We did briefly stop there for lunch after our jaunt to the Dales but we started our real world trip in the picaresque village of Ilkley, which is the start (or end) of the long distance walking path The Dales Way.
Ilkley
Ilkley is a quaint "spa town" and is known for the nearby Ilkley Moor as well as the start of the Dales Way path. The night before we started our walk we stayed at the Gin Lounge, a gin bar with rooms above it. How perfect! And so Edwardian! The Gin list was extensive, the claw foot tub relaxing, the wallpaper flowery, and I tried to learn How To Talk Correctly.
The Dales Way, Day One
After a hearty breakfast, we began our walk from, Ilkley to Burnsall, approximately 15 miles with a lunch and tea stop at the ruins of Bolton Abbey where we crossed the stepping stones over the River Wharfe. I will say, seeing the current rushing past as you are about midway across is a bit disconcerting but we managed not to fall in! A bit later, a much needed pub stop at the Craven Arms, a 16th century pub in Appletreewick (pronounced Ap' trick by the locals) where I could have spent the rest of the evening but alas, we still had a couple more miles of walking to our final destination, The Red Lion and Manor House. The weather was perfect and we only got briefly lost once and made friends with many a sheep.
Dales Way, Day Two
Today was to be another 12 miles over hills and dales but unfortunately Banita's foot, which she sprained two weeks prior, was really bothering her so we called it a day in Grassington and took a bus to our final stop in Buckden. If you are a fan of Masterpiece Theater and are watching the new All Creatures Great and Small, Grassington was where they did much of the filming. The picture below of Banita coming out of the tea shop next to the bookstore can be seen in the show as the outside of the local grocery store. There was also another stepping stone opportunity but I turned around halfway across because the rocks were a bit askew and took the bridge instead.
In Buckden, we stayed at the Redmire Farm Bed and Breakfast. It's very much a working sheep farm and it was fun to watch the sheep dogs at work! Also, the owners last name is Horner, which is my paternal grandmother's maiden name so there was much wondering about whether some of my family came from the area. I tried to do some genealogy but the trail runs dry in Canada. Horner is about as common as the last name Smith! Luckily they were able to get us a dinner reservation one mile down the road at the George Inn, another small 16th century pub known for it's meat pies in the even smaller haven of Hubberholme. Thankfully Banita's foot was up for the lovely evening walk to dinner. Made friends with some more sheep and explored an old church.
Thus ends where my real world travels meets my virtual travels. For now.